Insuretech is one of the new shiny concepts that the insurance and warranty industries are singing about these days. But, what does that mean? How is it different than the applications that you see advertised by the likes of the Allstate guy?
Well, those apps are in fact one flavor of insuretech. However, insuretech is a much larger concept and is a product that is changing the industry as we speak!
Insuretech is technology.
Duh, right?

Insuretech is an IT platform or software application that is intended to improve the operations of insurance companies, as well as improve their policy holders' purchase and claims experience.
Insuretech can leverage eCommerce technology, big data, IoT connectivity, artificial intelligence, CRM and consumer-facing apps, dispatching, and claims engines to support the insurance process, from the quote and acquisition of a policyholder to the administration of claims.
What does Insuretech mean for the warranty industry?
The warranty industry is different from the pure property and casualty industry, even though it's similar in many ways.
For warranty service providers, extended warranties, home warranties, and screen protection plans are often sold through reseller channels.
The number one thing insuretech does is facilitate the warranty sales process.
Warranty contracts are typically priced based on the product type, product price, and warranty term.
For any particular product, let's use a TV as an example, there could be 3 different SKUs to offer to a consumer via the shopping cart.
Traditional eCommerce providers like, for instance, Amazon, have 2 options to deal with this. They can create tables within their infrastructure that matches all possible SKUs to a product/price/term combination. In fact, that's how tier 2 and 3 etailers have done this for at least a decade. Amazon, and others such as Wayfair, actually have multiple warranty providers which can offer a warranty SKU for a product/price/term combination.
So, they have created algorithms that look at the possible warranty product SKUs in real-time and display the lowest cost option on the page or in the cart, to drive attachment rates. This requires the development and maintenance of this code on their side.
Insuretech platforms, like OnPoint's Service Avenger Insuretech solution, provide an API forward box to hit, if you will, that will perform the logic described above, and respond with the best warranty SKU for the product purchase. The API set is defined and published, enabling a much faster market launch for eCommerce platforms, offering a plug-and-play warranty sales process.
Insuretech is more than the sale. Many warranty companies claiming to offer 'insuretech' just offer a sales widget. In this scenario, the insuretech company offers a table that the eCommerce provider can hit via a web call, to gather possible warranty offers. They then still must create the code to select and display an SKU.
First, that is not a simple integration, nor is it typically completed quickly. And, moreover, that is just the front end. Often warranty resellers, like eCommerce companies or home w
arranty companies, are good at the sale, but have no capability to deliver repair service post-sale.
Therefore, the second, equally important functionality of a well-designed insuretech platform is the ability to seamlessly, digitally, deliver service fulfillment.
Warranty administrators like OnPoint Warranty spend immense amounts of time finding, vetting, and contracting with independent service providers, as well as manufacturers' factory service techs. End-to-end insuretech platforms enable clients selling warranties to facilitate warranty contract onboarding and terms and conditions fulfillment, consumer or agent contract entitlement, intelligent job dispatches, and claims adjudication and repair. What's more important, is that not only does the insuretech have to facilitate this set of functionality, it also has the have the 'people' if you will, behind the platform to physically execute service fulfillment.
In OnPoint's book, warranty service fulfillment services are part and parcel to insuretech platforms.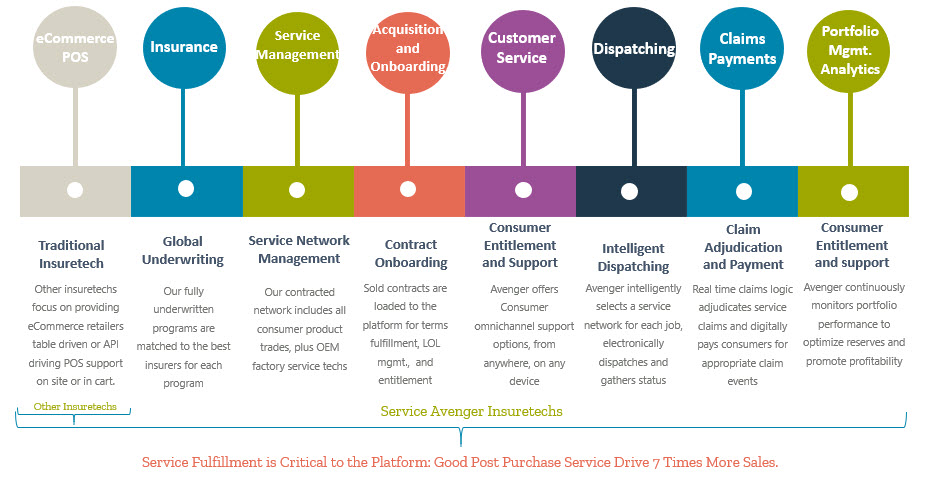 It requires an immense amount of resources to design and construct a fully digitized consumer warranty experience. Insuretech platforms that have been designed to streamline the process from the offer and sale to the warranty claim payment, that also have physical fulfillment capabilities, are the real backbones of the insuretech space.
For more information on how OnPoint's Service Avenger Insuretech platform can help your business drive warranty sales and deliver awesome warranty services, click below.